Black Mist and VND Filter
Include Black mist and Variable ND filter
Learn More
Magic Streak Filter
Blue, Gold and Rainbow for select
Learn More
Beautiful Star Filter
4-star, 6-star, 8-star for your choice
Learn More
Convenient Variable ND Filter
4 kinds of Variable ND filters for select
Learn More
Bestsellers
VND and Black Mist Filter 2 in 1 has released
Black mist filter is a world wide popular filter, especially in the world of cinematography and videography. For photographers, black mist filter could help you create special effect too.
But maybe sometimes we found that the light is a little too bright which make the effect of black mist filter not so good. If you use the camcorder, it may be not good to adjust the aperture, so you need a variable ND and black mist filter 2in1. Now, you can get the products from GiAi.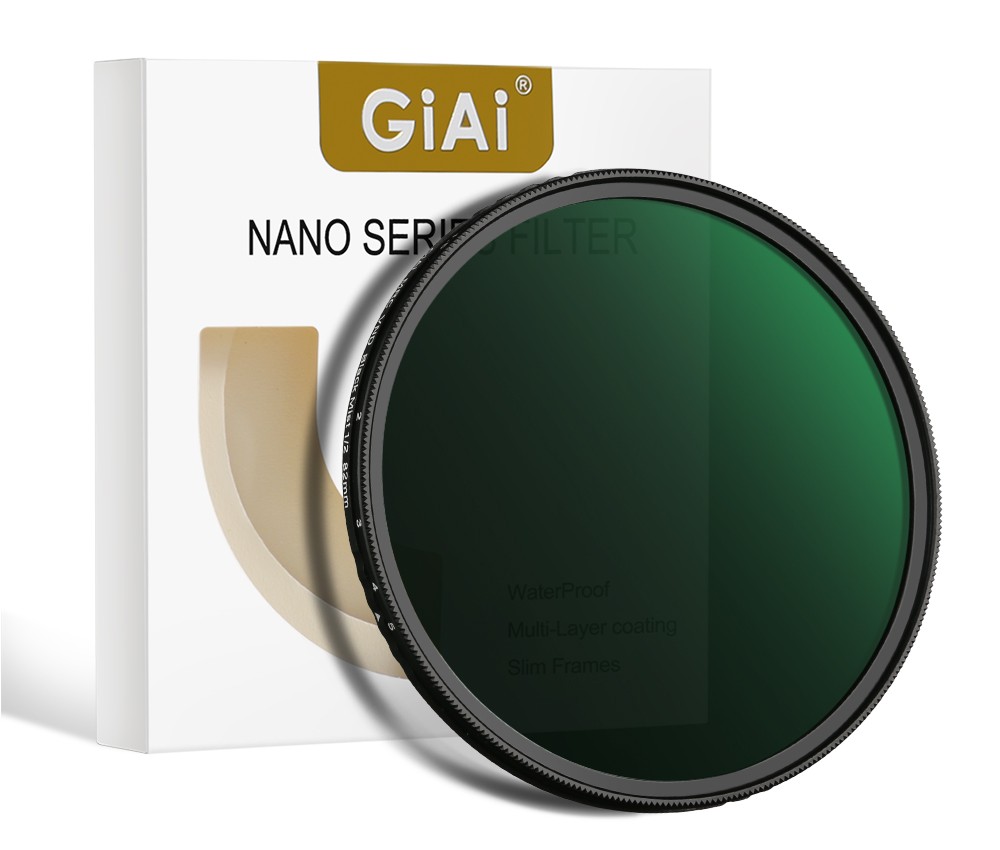 A black mist filter is used to lower the contrast and reduce the highlight, and create a dreamy, hazy effect that "blooms" the lighting. GiAi produces intensity 1/8, 1/4, 1/2 and 1. The bigger number, the higher strength of softening.
Maybe you are puzzled, why would I want to soften my pictures?
Well, the black mist filters aren't for everyone. In the digital period, the cameras' sharpness are getting higher and higher. The black mist filters help your pictures look less digital. And when you take photos for a beautiful model, it could soften wrinkles and blemishes. The black mist filters are good tools for portrait.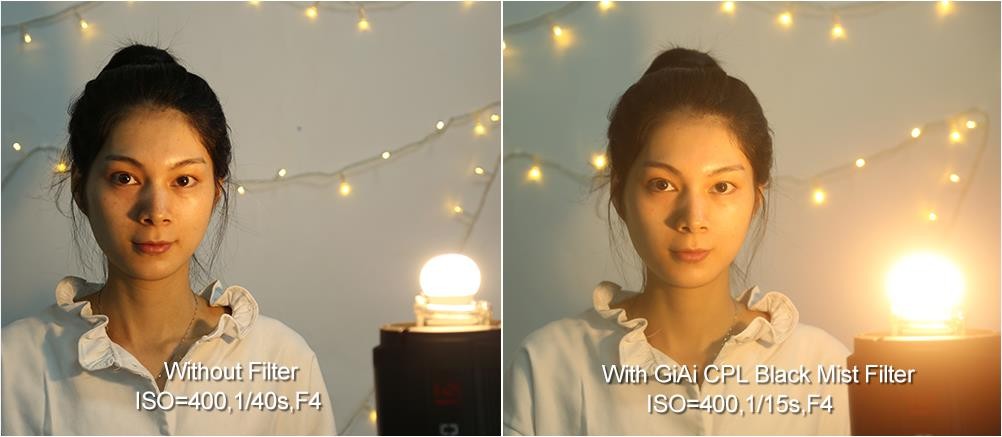 You maybe curious how is the performance of the GiAi VND and black mist filter? Now follow me to test it.
This is a VND and black mist 1/2 filter. The glass is made of high transmittance optical glass, and has a protective MRC coating, which aids in glare, scratch and waterproof. The frame is made of exquisite high quality aluminum alloy.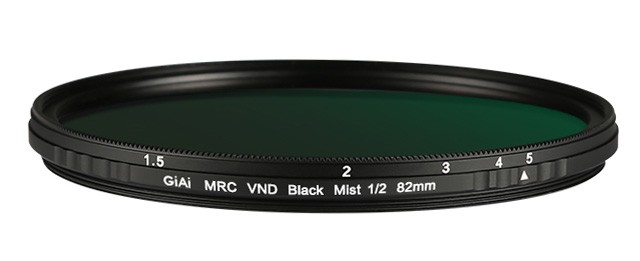 When creating soft light, it could also reduce the highlight and contrast. See the picture below. You can find that the wrinkles and blemishes are softened too. It is really a great tools for portrait. Besides, the black mist filter could brighten the dark part a little too. See the right face of the model.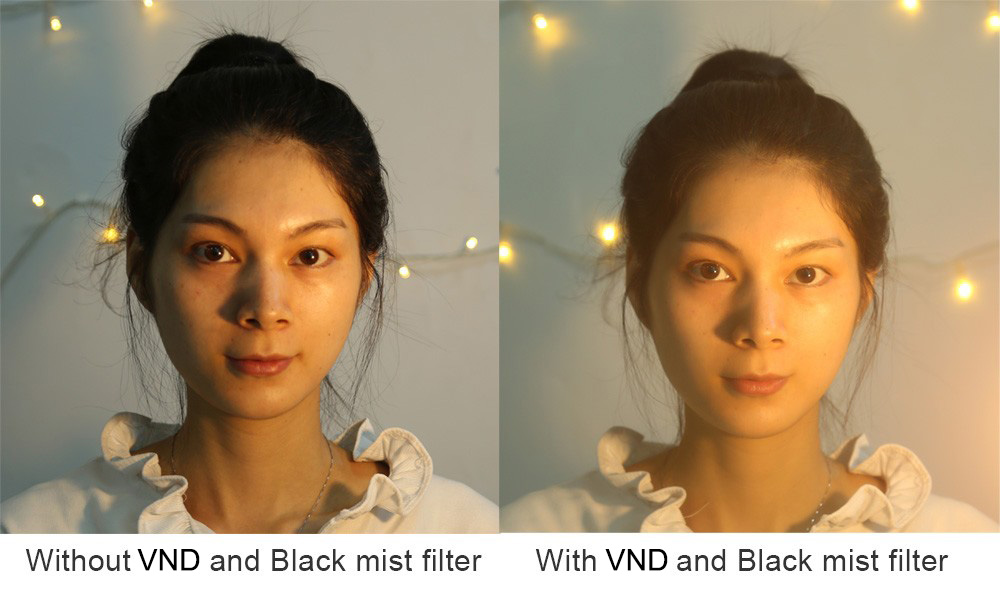 For some variable ND filter, there is terrible cross pattern when it is near the max ND position. But for the GiAi VND and black mist filter, we have used special technology to make the cross pattern never appear. The exposure is consistent in different area.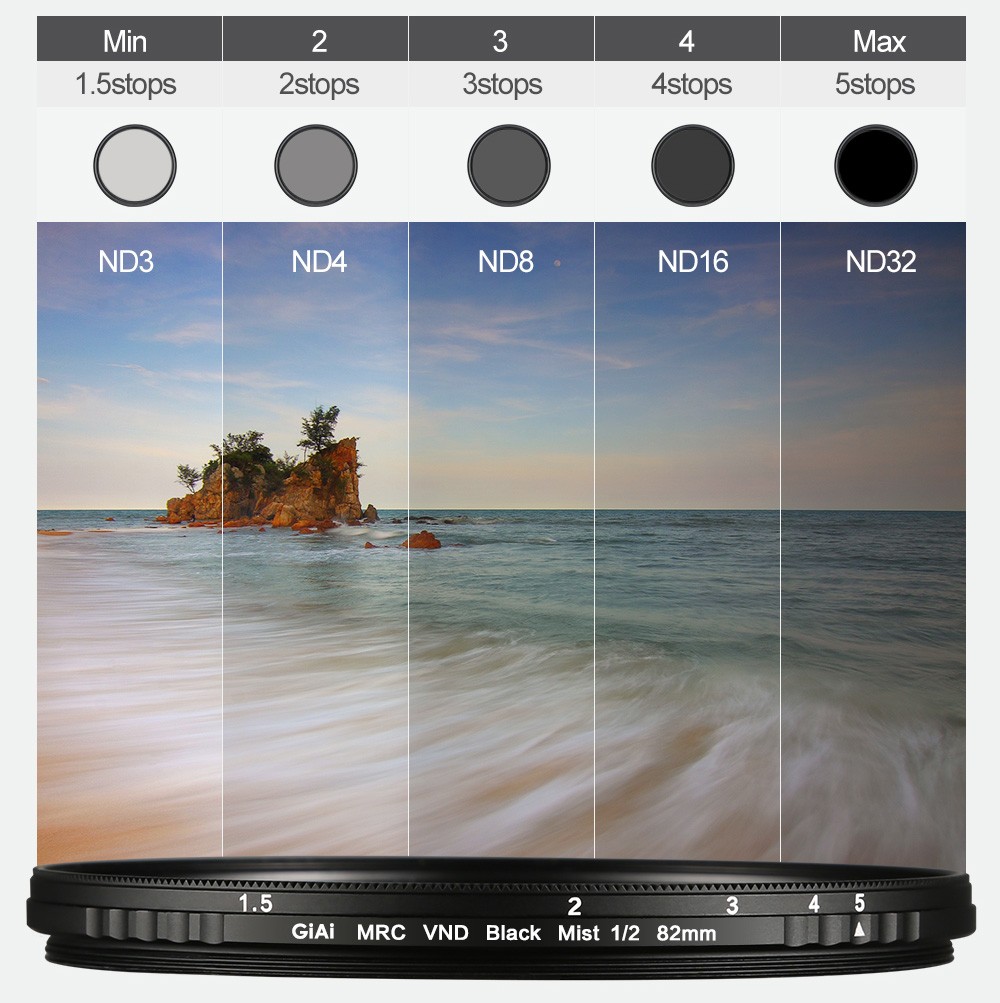 We can find that GiAi VND and black mist 1/2 filter is really good. If you are a portrait photographer or a film maker, the VND and black mist filter are a great tools for you. Not every lens filter could soften the wrinkles and blemishes, while the VND and black mist filter 2in1 could achieve the effect. It helps the model looks more aesthetic.
Latest