Black Mist and VND Filter
Include Black mist and Variable ND filter
Learn More
Magic Streak Filter
Blue, Gold and Rainbow for select
Learn More
Beautiful Star Filter
4-star, 6-star, 8-star for your choice
Learn More
Convenient Variable ND Filter
4 kinds of Variable ND filters for select
Learn More
Bestsellers
How to choose a good Variable ND Filter?
We hope to give you an introduction to the Variable ND filter, and the way to choose a good Variable ND filter.
What Is A Variable ND Filter?
A neutral density filter, is a piece of glass which is used to reduce the light getting through your lens. So as to help you use wider aperture or slower shutter speed. The most popular ND filters are ND8, ND64 and ND1000 filter. The Variable ND filter offer you a wide range of ND value. For example, ND2-32, ND2-400, ND8-128, etc. Since you can just rotate the front ring of variable ND filter to get different ND value, so it is very convenient for normally use. When you don't know which ND filter you need to take out for photography, you may have to take 3-4 pieces of ND filters with you. But you can take only 1pc Variable ND filter. What is more, when you are taking videography, you can just rotate the front ring to adjust the ND value during different angles' shooting. If you use fixed ND filter, you have to remove one and install another ND filter.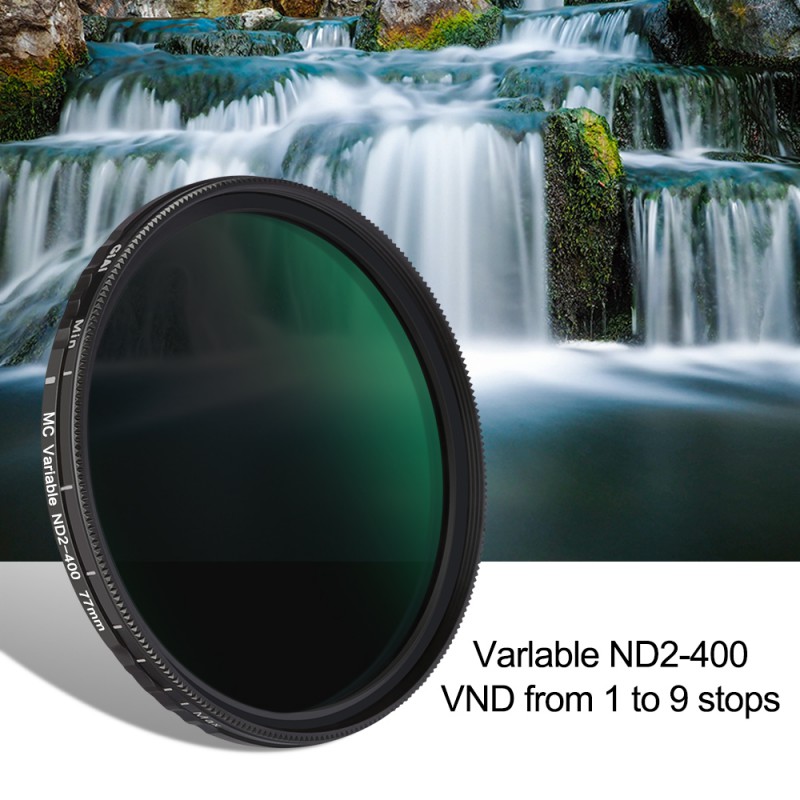 What ND Filter Value Should You Use?
If you are a photographer looking to create motion blur, then you will need the largest amount of light blocking that you can afford, usually up to ND64 to ND1000, while a videographer can probably get away with an ND8 or ND16 for most day-to-day uses. And you can use the ND filter chart below to get a feel for what density of filter you will need for your style of photography or videography. Find an appropriate neutral density filter on the left, then use the ND filter calculator to see the shutter speed you will need based on the shutter speed without using a filter. This assumes that the aperture and ISO remains the same.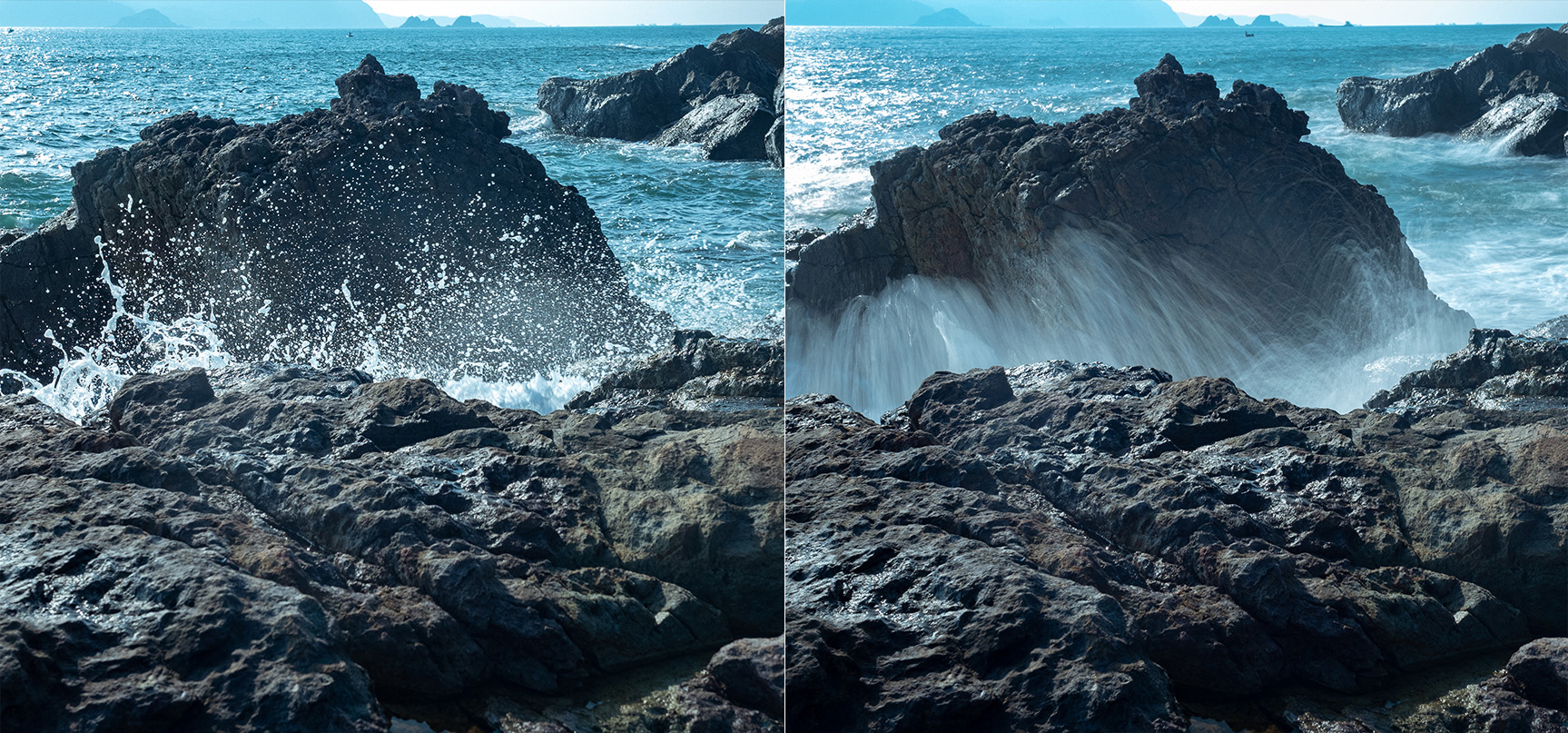 How To Choose A Good Variable ND Filter?
Cheap variable ND filter may cause negative effect to your pictures, such as light leaks, white balance shifts or cross pattern at the higher ND value. Cross pattern is really a bad issue for normally usage. Course it makes your picture unavailable. The cross pattern depends on the variable ND filter's manufacturing technology, and it depends on your camera's format and lens' focal length.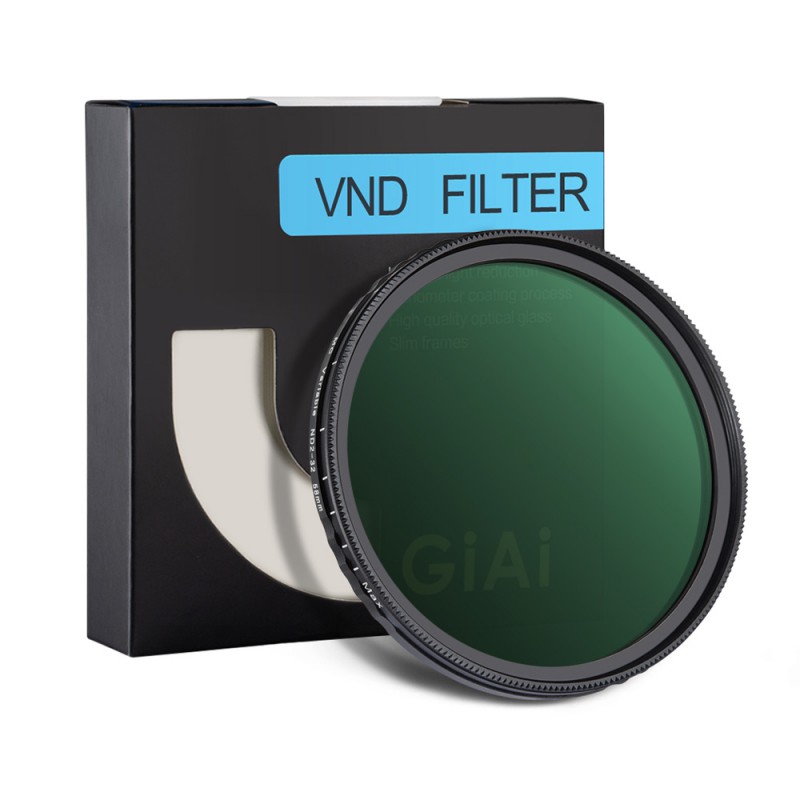 For the GiAi Variable ND2-400 filter or Variable ND8-2000 filter, which are most common variable ND filter, for full format camera, usually the cross pattern appears on ND100 @24mm focal length. For the GiAi Variable ND2-32 filter or Variable ND8-128 filter, which reduce light 1-5 stops and 3-7 stops, there aren't any cross pattern for over 24mm focal length. So they are very popular for normally used. Of course, the Variable ND2-32 filter cost are more than the variable ND2-400 filter. We can conclude that if you use a APS-C format camera, and telephoto lens, the GiAi variable ND2-400 filter is already OK. If you use full frame camera, I suggest you use Variable ND2-32 filter and Variable ND8-128 filters.
Latest